Japanese Spring Roll
In my travels around the world, the one thing I have learned in regards to the country cuisine is that the Japanese, Chinese, Indian, and other countries, restaurant that I go to in the US, the food is NOT the same in the home country.  So here I was in my hotel in Japan, finished my day tour, took a shower and went for dinner.  I saw spring rolls on the menu, I was like yes! I love spring rolls, I always get spring roll for my appetizer back in the US, so why not get it here in Japan.  Look appetizing doesn't it? Mouth Watering.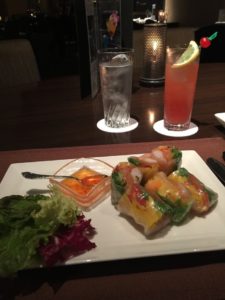 I couldn't wait to bite in! And I did..and uhhh wait a minute there, waiter? waiter! Why isn't the spring roll crispy on the outside and fried? Is this cooked? …No? ok, it looks great, but I can't eat it. Needless to say, do not assume that the dishes you have in restaurants from a country will be the same if you visit that country.  Most restaurants usually modify the dishes to be agreeable to the palate of the country they are in. Bona Petite!